Is it just me or does it seem like April flew by? As May gets going I'd like to take some time to recap the last month.
I started creating these recaps for two reasons:
To slow down and give myself space to review and celebrate my hard work and accomplishments more often
To provide you with a more clear view of the services Manifesting M.E. Wellness offers in the community. This is important as many of our offerings are booked for private events and I'm not always the best at maintaining my social media presence especially when life gets really busy.
Here are the beautiful offerings Manifesting M.E. Wellness had the honor of sharing with the community for April 2019.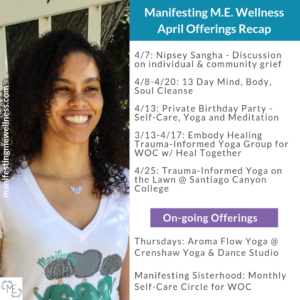 From facilitating discussions on self-care during grief after the murder of Nipsey Hussle to our free annual 13 Day Mind, Body, Soul Cleanse and bringing trauma-informed yoga to WOC and college students April was full of holistic mental health gatherings.
As always my heart is very full! Thank you to all of the folxwho provided support, guidance, and referrals to make each of these events happen. It is such an honor that you trust me and my business for your holistic mental health needs.
Stay tuned for more of my reflections on these events. Join our email list to learn more about our upcoming offers. And contact us to book us for your next event.
Here's to going H.A.M. (Healing.Actualizing.Manifesting) all May 2019 for Mental Health Awareness Month!
Keep Manifesting,