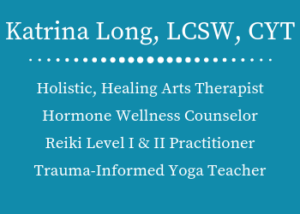 Katrina Long (She) is a clinical social worker, holistic therapist, creator, traveler, runner, and yogi.  She is a native of Inglewood, California who has always had a passion for helping others to see the light in their struggles and the strengths in their differences.  Through her own struggles, Katrina has learned that wellness is a constant, ever-changing journey which we manifest through our daily work to heal ourselves and those around us on a holistic level.  It is through her healing journey that she became inspired to create holistic healing services that are accessible to all and hold space for others to actualize their own healing.
Katrina obtained her Bachelor of Arts in Social Work and Administration of Justice from the University of Pittsburgh.  She later earned her Master of Forensic Social Work from the California State University of Los Angeles.  In addition to her Master's degree, Katrina trained in expressive art therapy, essential oils, Ayurveda, Viniyoga (200 hour), Reiki, Trauma Focused-Cognitive Behavioral Therapy, sexual assault and domestic violence counseling, and trauma-informed yoga.  She is passionate about working with people of color, communities affected by trauma, individuals who identify as queer or questioning, and folx experiencing hormone and menstrual-related disorders.
Katrina has provided clinical services to children and adults of diverse populations in community mental health settings across the South Los Angeles and South Bay areas.  She specializes in trauma, interpersonal relationships, adolescent and child therapy, hormone & menstrual related mental and emotional disorders, and chronic mental illness.
Katrina utilizes a holistic approach that is person-centered, trauma-informed, and strength-based.  Her approach also integrates transpersonal and metaphysical healing frameworks.  She believes each person is unique in their own ways and assists individuals in identifying their individual strengths to build resilience, improve coping and manifest healing.  Katrina works with individuals to reintegrate them with their bodies and breath, discover and grow their creativity, create healthy and sustainable lifestyles, connect to their spirituality and intuition, and understand their thought patterns to encourage healing on a mental, emotional, physical, spiritual and soul level.  She creates a safe space and tailors her approach to meet each individual's needs.
Combining her passion for trauma work with her love for travel, Katrina has also had the honor of working with and being a non-profit board member for Healing Arts Peace Projects International (HAPPI).  Through her work with HAPPI, Katrina provided trauma-informed expressive art therapy to women and children affected by sex trafficking, immigration, sexual abuse and natural disasters in Thailand and Haiti.  Her work in Thailand and Haiti included providing trauma training to local community organizations and their staff.
In addition to working 1 on 1 with individuals in therapy; Katrina facilitates 1 on 1 and group trauma-informed yoga therapy, expressive art therapy, and mindfulness groups.  She provides community wellness workshops and has been a guest speaker on topics such as 'soul restoration after burnout' and 'mental health in communities of color'.  Katrina created the Black Holistic Mental Health Practitioners Facebook group to build community amongst practitioners of the African diaspora and provide support in their work.  She is also the 1st mental health consultant for Baby On Call, an app created to provide parents with quick access to expert advice from varying professionals regarding parenting children from newborn to 18 years old.
Katrina founded Manifesting M.E. Wellness to enhance her mission of breaking the stigma around mental and emotional health and creating access to holistic treatment options within communities of color.  When she is not working with others on actualizing their healing she can be found manifesting her own healing on her yoga mat, on the dance floor, running by the beach, trying new restaurants with friends, laughing with family or plane hopping.
See more of her work here.