As mentioned in a recent blog about My PCOS Story, September was PCOS Awareness Month.
I took the month off for 'summer vacation' to relax and enjoy my birthday.  It was a much needed and appreciated break!  I was truly able to step away from the business side of things and enjoy myself without the pressures of deadlines, consistent social media posts, and creating content.  I spent time with family, rested, hung out with friends I hadn't seen in a while and was able to focus on getting my house in order.  And when I tell yall it needed it…LISTEN!
Just when I thought it couldn't have been any better…
I was reminded that an article I submitted a few months ago was released in a new magazine about PCOS.
The Cyster Chronicles Teal Magazine is a publication created to bring awareness to Polycystic Ovary Syndrome and provide a space for individuals with the disorder to open up about their struggles and share their experiences.
I am incredibly thankful to not only have 6 Holistic Remedies for PMS included in the publication but also to have been given the space to share my story alongside so many other individuals who experience this disorder.  This article is great for anyone experiencing PMS even if you don't have PCOS.
Talking about the impact of hormones on the wellness of our mental, emotional, physical and soul bodies is a passion project of mine.  I'm working on releasing some new content about hormonal health in the next few months and a hormone wellness program early next year.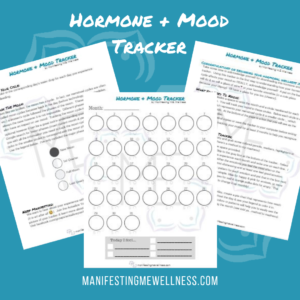 If you or someone you know experiences symptoms of a hormonal imbalance such as PMS (Premenstrual Syndrome), PMDD (Premenstrual Dysphoric Disorder), PCOS (Polycystic Ovary Syndrome), Endometriosis or other menstrual related disorders and are looking for holistic remedies that focus on healing from a mind, body, soul approach join my new hormone wellness newsletter to receive updates regarding new products and educational content as it is released.  By joining you will also receive a free download of my new Hormone+Mood Tracker, released last month in honor of PCOS Awareness Month.
Please note: hormone content and products are all queer-friendly and created with BIPOC in mind.
In the meantime, be sure to check out my feature in The Cyster Chronicles Teal Magazine.  There are digital and print options available.  Share it with others who might benefit from the information as well.  The more we spread the word about hormonal disorders like PCOS the better chance we all have of healing from the toxic word we live in.
Keep Manifesting,