It's Wednesday! We are back for another week of Reiki Q&A. Today we are discussing the general benefits of Reiki.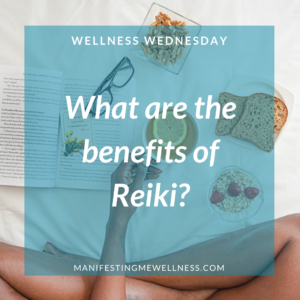 Be sure to check out our previous posts on the origins of Reiki & the sensations and side effects of Reiki if you missed them.
Here is a short list of some of the more common benefits people may experience from Reiki treatments.
Physical Benefits
Reduces pain
Reduces blood pressure
Accelerates body's self healing capabilities
Releases toxins
Enhances immune system
Improves sleep
Mental/Emotional Benefits
Decreases anxiety
Improves mood
Reduces stress
Improves memory
Dissolves energy blocks
Increases connection to spirit/source/God
Improves focus
Enhances clarity of thoughts
Spiritual Benefits
Enhances connection to self
Increases love for self & others
Improves intuition
Balances chakras
Cleanses aura
Of course, every individual is different and may experience different benefits from Reiki. The length of time and number of sessions necessary for benefits to occur may also vary for each individual.
One really amazing thing about Reiki is both the practitioner and the individual receiving Reiki can experience the healing benefits of the Reiki treatment. That means anytime a practitioner faciliatates a Reiki session they are not only providing healing for the clients but also for themselves.
Important Note: Reiki is best used as complementary medicine to enhance psychotherapy, western medicine and other alternative healing modalities. Reiki practitioners are not medical professionals
Give Reiki a try today! Use code: Reiki10 to get $10 off a remote session. Offer is only good for the month of February. Schedule a session today!
Be sure to join us next Wednesday for another round of Wellness Wednesday Reiki Q&A. Have a wellness topic you want to discuss? Drop potential Wellness Wednesday topics below so we can incorporate them in future posts.
Keep Manifesting,