Hey Hey Y'all!
Wednesday was the first day of my July visit with Aunty Flow.  Y'all know with all my hormonal stuff I get PMS pretty badly, well this time around it has not been too bad.  I didn't have very many symptoms leading up to the first day, aside from spotting the night before-very lightly.  It took me by surprise because I had been feeling fine aside from the emotional dysregulation I had been in all month.
Ya y'all heard that right…NO SYMPTOMS!  Well…none that were significant enough that I thought it was about that time.  Very, very little bloating and some breast tenderness but so slight and only for a few days that I thought it was a fluke.  I have NO idea the last time that happened.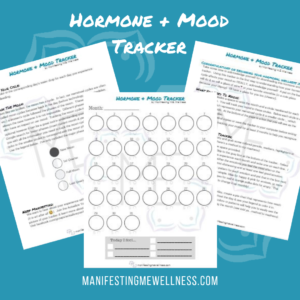 I just woke up Wednesday morning with a beginning-flow bleed but no symptoms and thought I was going to have a decent month but of course, within 6 hours the usual nonsense was kicking in.  I felt the cramps coming from a mile away but I was out at the store and on a mission so I pushed through and just bit the bullet on my way home.  Of course, since I wasn't expecting her, I didn't have my usual PMS supplies with me so I had to hurry home to get to my bed and medicine cabinet.  I just knew it was going to be a ROUGH night.
Surprisingly, within 4 hours of being home, I was back to normal and I'm sitting here on day 3 feeling pretty good with little to no cramping and discomfort, just a bit of period brain (y'all know what I'm talking about…that short-term memory loss + absent-mindedness + brain fog that makes you feel like you are drunk or just losing it…ya…THAT!) and the desire to hibernate.
If you have been following me for a while you know that I've stopped taking birth control and medication as I wasn't finding it useful or helpful and have chosen instead to be holistic in my approach to my hormonal dysregulation.  I'm always excited when I find a combo of remedies that works so y'all know I had to come share the wealth.
Here are the 6 holistic remedies I am using this month to help ease my PMS…
1. Endoflex Essential Oil:  As the name suggests this is a great essential oil for your endocrine system which is the system of our hormones.   It is a combination of 6 different oils which support your nervous and reproductive systems, revitalize tissues, optimize digestion, improve metabolism, combat mental fatigue, increase relaxation and peace, and increase your body's response to injury and irritation.  Endoflex is truly a powerhouse for this time of the month!  This month I've been diffusing it throughout the day to support my system.
2. Yogi Woman's Moon Cycle Tea:  I discovered this tea a few years ago and it has been in my arsenal ever since.  I was pretty convinced it was magic when I first got it and I'm still pretty convinced.  This has a blend of herbs that are great specifically for your PMS symptoms.  The herbs contained target everything from irregular cycles, mood swings, cramps, stomach discomfort, and insomnia.  When it comes to cramps, this is my go to.  Soon as I walked into the house on Wednesday I put a pot of water to boil to make this tea.  I drink it all day, hot or cold.  I usually get it on Amazon here and I stock up for my house, travel bags, purse, car, and desk.  I've even gotten family members and the ladies at my past job hooked on it!  I've had a few people tell me they don't like the taste because it is like a spiced tea, similar to Chai-which I love, but they drink it anyway because it works!
3. Traditional Medicinals Healthy Cycle Tea: I learned about this tea last year at a women's brunch I attended.  It contains a blend of herbs that are focused on keeping your cycle and reproductive organs healthy overall.  It does contain a few herbs to ease cramps and discomfort but I think it is better for overall balance and management rather than for your quick fix team.  I drink it periodically throughout the month and this week decided to mix it with the Moon Cycle tea for some additional support.  I buy it here on Amazon.  This one has more of a citrus flavor which might make it more likable for some.
4. Clary Sage Essential Oil: This one is newer for me.  I have heard about using it for cramps through the Floliving app I use to track my cycle and monitor my symptoms.   I finally purchased it and gave it a go this month.  Clary Sage is said to be great for the sex hormones specifically while also being useful in relieving cramps, bloating, mood swings and cravings.  This month I rubbed it directly on my stomach when I felt the cramps coming especially in the night-time when I didn't feel like getting up for more tea.  I'm plotting on adding it to an Epsom salt bath when the weather is cooler. I'll keep y'all updated on that.
5. Sodalite Crystal: Sodalite is in the blue family of crystals which means it brings in the energy and properties of water which is free-flowing and feminine.  I have not worked with Sodalite much before but intuitively selected it this month and was pleasantly surprised to see it is a stone used to enhance your intuition, soothe fatigued adrenals (which can cause hormone disruption and PMS), grounding, and releasing anxiety and negative emotions.  Soooo good right?!?  I have been keeping this baby close to me this week.  I meditated with it the first night and have it in my bra or purse as I've been going about the remainder of my week
6. Yoga for women – Menstruation Sequence:  When I'm feeling particularly icky from my cycle I find it challenging to work out or go to yoga but I feel like sometimes the cramping is so rough that I find myself bouncing around to help ease them.  I recently started looking into YouTube videos of yoga sequences specifically for menstrual discomfort.  This month, I found this one by Yoga with Adriene.  There are a few things I enjoyed about this sequence: it was slow and restorative, mostly sitting poses, using household items like blankets and pillows for modifications, and she encouraged free-flowing movement.  She spent a lot of time explaining each pose with modification ideas and encouraging the viewer to tap into their femininity which made following the flow a bit choppy the first time around but once I found the modifications that worked for me I could go back and just do those the next time. Might be a good idea to watch one time to get all your stuff together first then plan to actually do the practice the next go round. I love finding new sequences but haven't found one that I like overall for this time of the month. IT just occurred to me this week that maybe I should just create one ????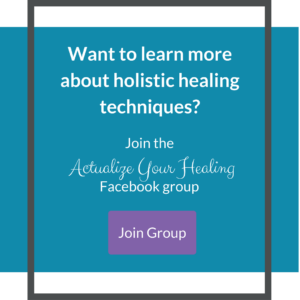 Like always, this is still a work in progress but I am on my way to better cycles.  I think next month I need something more gear towards the period brain and fatigue.  I'll let y'all know what I find!
In the meantime…try these out, tell me what you think and be sure to share this information with a friend who could benefit from it.  What are other holistic techniques that you use to ease your PMS?
In Perfect Love,

Want to learn more about holistic healing techniques?  Join us in the Actualize Your Healing Facebook group.
(9/2018 Update:  I'm proud to announce this has been published as an article for the first edition of The Cyster Chronicles: TEAL Magazine, a special edition PCOS awareness publication.)