We are quickly approaching the end of our 13 day cleanse. Hope everyone is doing well with the tips we have discussed thus far. If you are a bit behind, check out yesterday's yoga pose for cleansing here.
The tip for day 11 is to create.
Our creativity is a huge part of who we are as people. Unfortunately, as we become adults and our lives become more busy and corporate (arguably more bland and basic) many of us will stop creating or at least do so less often.
What many of us may not realize is how much creativity shapes who we are and how beneficial it is for our mental and emotional health. Creativity improves our ability to process information, problem solve, learn, remember, and enhances our quality of life. The act of being creative also enhances mood, reduces stress, improves self-esteem, and releases difficult and even hidden emotions.
Many cultures and even some areas of science and psychology believe that a person who is creative is able to live life to their greatest potential regardless of any conditions or limitations they might struggle with. Your creativity brings you to life!
Engaging in a creativity practice, much like journaling, helps to clear space in our minds as it enhances our ability to process and store information we may not have given ourselves the time to acknowledge. What is also incredible about creativity is a creative practice also enhances our ability to process information our minds often don't know how to, regardless of how much we try. I've seen this occur in so many ways with my therapy clients especially in regards to trauma.
So how do you do it? Now I could give you an exercise to try or make suggestions for activities but that kind of defeats the purpose doesn't it? The first step in this tip is to CREATE a creative practice that works for you!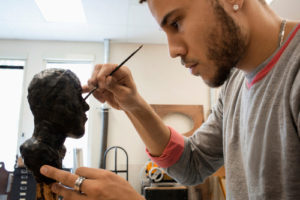 Dance. Write. Draw. Build. Sing. Compose. Sculpt. Act. Capture. Record. Mold. Craft. Design. Sew. Paint. DIY (is that a verb?). Decorate.
Whatever your thing is…do it!
Even if you haven't done it in a while…start again!
Even if you don't know that it is your thing….try it out!
Even if you don't think you are good at it…do it anyways!
I love creativity. I, too, am guilty of not putting my creativity into practice enough but my favorite thing about art is that it's literally our imaginations out loud. There is no real right or wrong because everyone's imagination creates differently and that's okay. If everyone's imagination was the same we probably wouldn't have all the great inventions that make our world what it is. Who knows, you might create the next big invention, or maybe your next business idea, but at the very least you can create something you can be proud of and that makes you feel good! As an art therapist, I always remind my clients, it is about the process, not the product.
So…go create! Create unapologetically. Create without judgment. Create in spite of fear. Create often.
I'd love to hear about your go-to form of creativity or a new creative practice you want to try. Join the discussion in the Actualize Your Healing Facebook group. And if you are feeling up for it, let me see what you create! I'll show you mine if you show me yours ????!
Keep Manifesting,