Let's make it another great #WellnessWednesday!
We're almost through with the 7 Chakra Blog Series! We only got 1 more chakra to go, so stay tuned for the final installment of this series as we dive more into the last chakra and learn about how Reiki healing might best help with imbalances in the chakras.
Today we'll be looking at the Third Eye Chakra – sometimes referred to as the Ajna chakra. The Third Eye Chakra is the sixth of the chakras of matter and the center of intuition and foresight. It also acts as a connection with between both inner and outer worlds. Balancing the third eye chakra allows for you to access the inner guidance that comes from the depths of your being and cut through illusion. If you wish to not only see but also understand, then I would suggest not neglecting this chakra!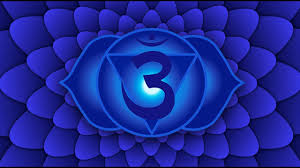 The energy of the third eye chakra allows for us to experience clearheadedness and the gifts of spiritual contemplation and self-reflection. One of its main purposes is granting you the wisdom that comes from a perspective that goes beyond the duality of simple concepts like good or bad and black or white. When everything goes well with this chakra, you can expect for both of your brain hemispheres to function in synchrony! Want to balance the right hemisphere's creative way of thinking with the left hemisphere's more logical and analytical way of thinking? If your answer to that question was along the lines of a 'yes', then Reiki healing can help with that! Below you'll find a possible conversation that may occur after a healing session.
"During our session I noticed you expressed pain and discomfort in your back and legs and have been getting frequent headaches."
These areas are related to the Third Eye Chakra.  Read more about it below.
Third Eye Chakra (located on the forehead, between the eyebrows)
Meanings/Connections:
Mental abilities, psychological skills, and how we evaluate beliefs and attitudes
Indigo
Overactive = disoriented feeling, easily overwhelmed, difficulty concentrating, anxiety, depression, paranoia, or hallucinations in extreme cases
Underactive  = inability to plan or set goals, narrow-minded, denial, poor vision/memory, difficulty seeing future, lack of imagination
Balanced = having a spiritual awareness of movement and change, having the ability to release old thought patterns, open-mindedness, trust in one's intuition
Intuitive Guidance:
Cultivate silence of the mind
Nurture your creativity – let that creativity flow!
Engage in guided meditation focused on the eye
Eat a nutritious diet
Pay attention to your dreams – jot them down and try to make sense of them!
If you're interested in discovering whether or not you are experiencing a third eye chakra imbalance and you want to figure out how to balance it, be sure to book an appointment at our distant reiki clinic today!
Keep Manifesting!