It's another great #WellnessWednesday!
We've made it to the second half of 7 Chakra Blog Series! We only got 2 more chakras to go in the upcoming weeks, so stay tuned for more diving into the 7 chakras and learning about how Reiki healing might best help with imbalances in the chakras.
Today we'll be looking at the Throat Chakra – sometimes referred to as the Vishuddha chakra. The Throat Chakra is the fifth of the chakras of matter and it acts a passageway for energy between the head and the lower body. It also acts as a connection with the etheric realm, the more subtle realms of spirit and intuitive abilities. Balancing the throat chakra allows for you to express your truest self, communicate with other people and with yourself, and project creative ideas into reality. If you believe you might just be the next star of The Voice, then I would suggest not neglecting this chakra!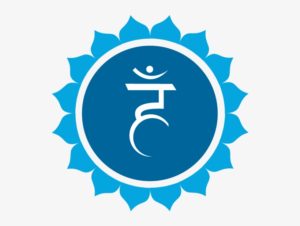 The throat chakra is driven by principles of communication and self-expression. One of its main purposes is granting you the awareness of your personal power. When everything goes well with this chakra, you can express yourself better in both spoken and unspoken ways! Want to be more creative? Want to open up your life to an infinite number of possibilities that encourage your expression of your true identity? If your answers to those questions were along the lines of a 'yes', then Reiki healing can help with that! Below you'll find a possible conversation that may occur after a healing session.
"During our session I noticed hoarseness in your throat and tension in your neck."
This area is related to the Throat Chakra.  Read more about it below.
Throat Chakra (the region of the throat, jaw, neck, mouth, and thyroid)
Meanings/Connections:
Originality, authentic expression of self, and confession and forgiveness
Blue
Overactive = dominating conversations, gossiping, non-stop talking, arrogance, condescension, difficulty listening to others
Underactive  = socially anxious, imperceptible voice, excessive secretiveness and shyness
Balanced = clear, concise communication, ability to express one's truth, easy to be honest with others
Intuitive Guidance:
Eat healthy and soothing foods
Speak the truth with love – do try to release your words with compassion and thoughtfulness
Indulge in creative pursuits (sing, draw, write)
Keep a journal and document your daily thoughts
Hydrate and drink water
If you're interested in discovering whether or not you are experiencing a throat chakra imbalance and you want to figure out how to balance it, be sure to book an appointment at our distant reiki clinic today!
Keep Manifesting!