Hey again! It's another #WellnessWednesday!
We're almost halfway through the 7 Chakra Blog Series! With each upcoming week, we'll be diving more into the 7 chakras and learning more about how Reiki healing might best help with imbalances in the chakras.
Today we'll be looking at the Solar Plexus Chakra – sometimes referred to as the Manipura chakra. The Solar Plexus Chakra is the third of the chakras of matter. Balancing the solar plexus chakra allows for you to overcome fear, master your thoughts, and make conscious choices. It's also your source of personal power and confidence. If you're looking to become your own personal superhero, then this is a chakra to pay some special attention to!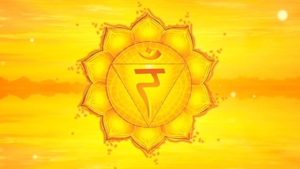 The solar plexus chakra functions as the center of energy associated with the ego or self-identity. This energy center provides the momentum to move forward in life and realize your personal desires and intentions. Upon the needs of the solar plexus chakra being met, you'll exude more confidence (without coming off as arrogant) and feel a greater sense of purpose. Want to be more assertive? Want to use your power and influence for good in the world? If your answers to those questions were along the lines of a 'yes', then it'd be best avoid conflict with this chakra. Reiki healing can help with that! Below you'll find a possible conversation that may occur after a healing session.
"During our session I noticed excessive weight around your upper stomach and that you expressed increased feelings of fatigue."
This area is related to the Solar Plexus Chakra.  Read more about it below.
Solar Plexus Chakra (near the upper part of the belly)
Meanings/Connections:
Expression of will, personal power, and mental abilities
Yellow
Overactive = anger issues, excessive stubbornness, an increased desire for control, striving for perfection, being overly critical, eating disorders, ulcers or other digestive problems
Underactive = lack of confidence, low self-esteem, indecisiveness, helplessness, lack of purpose, increased anxiety, uptightness
Balance = strong sense of identity, increased confidence in your self and your abilities, increased sense of purpose, reliableness, motivation and self-discipline to turn thoughts into action
Intuitive Guidance:
Practice yoga with mindful breathing
Eat more yellow foods such as bananas, corn, grains
Engage in more open eye contact with people
Step out of your comfort zone and change up your daily routine
Drink herbal teas
Spend some time in the sun
If you're interested in discovering whether or not you are experiencing a solar plexus chakra imbalance and you want to figure out how to balance it, be sure to book an appointment at our distant reiki clinic today!
Keep Manifesting!